Duos We Admire: Summer Games Series
Swimming All Star Kim Vandenberg
Competition swimmer and Olympic bronze medalist, Kim Vandenberg, embodies everything about what it means to be a true HarperSage Duo. She embraces vulnerability, strength, and a dynamic outlook on life that has helped her to excel not just in swimming but in life. Read on to learn more about her day-to-day as she navigates her passions, work, and style as a Duo We Admire!
How did you get started in swimming? Was there a moment it clicked that you could go far with it?
Kim: I began my swimming career in our backyard pool in Moraga, CA. I raced my two brothers and, for as long as I can remember, I always had that fire to compete. I think it really clicked for me in 2004 when I missed the Olympic team by a few spots. I realized how close I was to becoming an Olympian, and it was then that I knew it was possible. I always wanted to be an Olympian, but I didn't truly believe that I could until the 2004 Olympic Trials in the 200 fly final. I placed 5th and they took the top 2 qualifiers - so I was three spots away. That motivated me beyond belief. It was game on for me after that.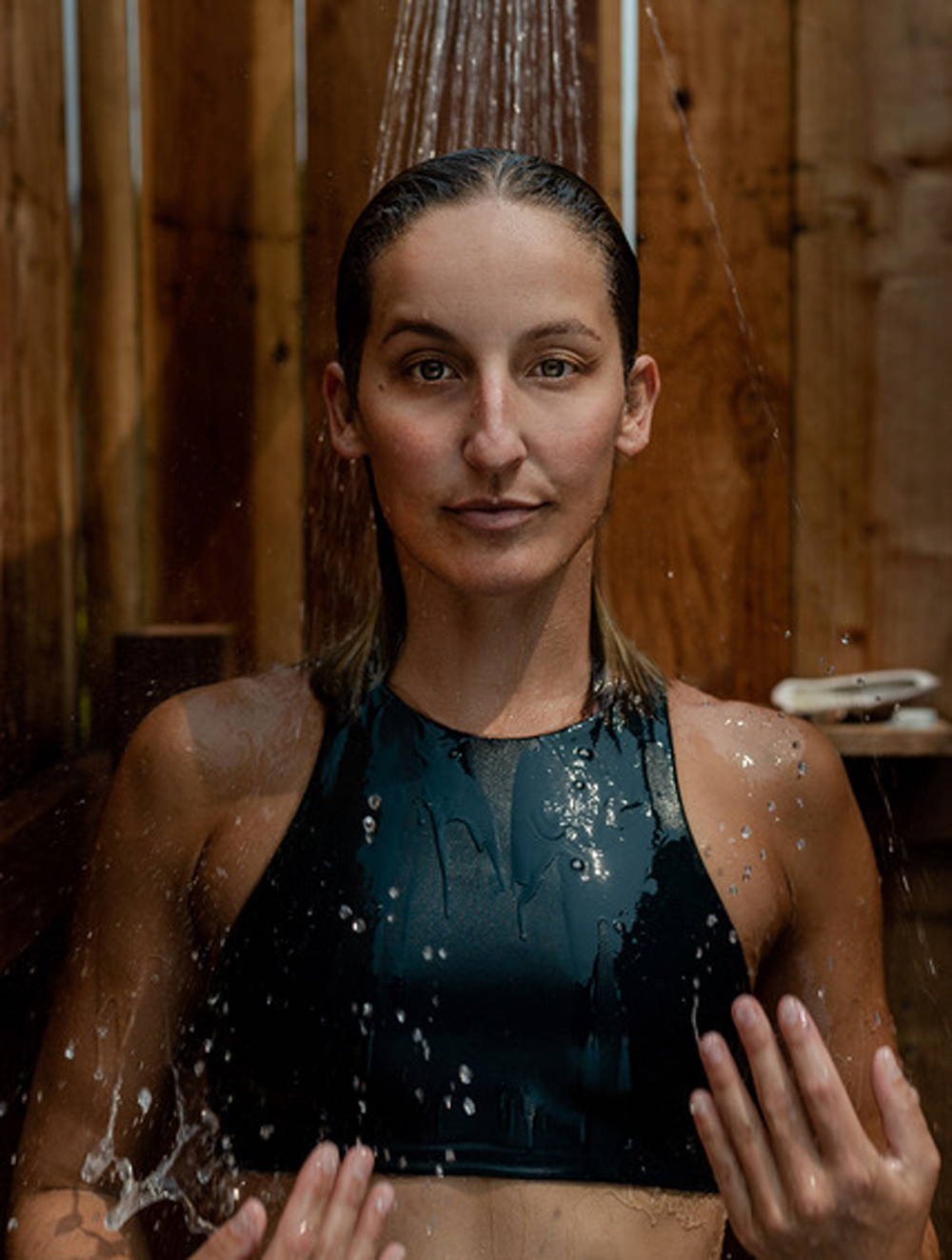 Being an athlete takes a lot of dedication. How do you practice balance in your daily life?
Kim: When I was prepping for the Olympics, I was sometimes training up to six hours a day in the water but now, I swim for maybe less than one hour a few times a week and love it so much more! I also started running this past year and continue to do yoga. Balance is always something I strive to achieve, I'm not sure I have found it yet, but I try every day. I think that taking days off from working out is really important for recovery and well-being. I also find that exploring expectations is necessary in that search for balance.
What's one word to describe your weekday style and one word to describe your weekend style?
Kim: My weekdays and weekends are similar for the most part, and I would describe it as sporty-chic!
How has swimming influenced your style choices growing up and today?
Kim: Comfort is the name of my game. I think because I have lived in tight swimsuits my whole life, I gravitate towards comfortable, oversized garments in my "dry land" life. I love cozy sweatpants, sweatshirts and men's shirts. My style is sporty yet artistic and eclectic. I enjoy finding fun pieces at flea markets whenever I travel. Amsterdam, Brooklyn, and Marseille are a few cities I love to vintage shop in. I also value an easy wrap to wear post swim, one of my friends has a beautiful silk company Carmen Molina​​, and I love to pair her products with HarperSage when I can.
Tell us how you're rocking your chosen HarperSage garment. Where and how have you been wearing it?
Kim: I'm full on obsessed with the Utility Jumpsuit. I wear it often with Birkenstocks and a bandana around my neck. I've been complimented on that outfit a ton, and I always recommend people go check out HarperSage! When it's cold, which is rare in LA, I wear a striped long sleeved shirt underneath it to give a bit of warmth and flare. Sometimes I switch up my footwear and wear wedges, but Birkenstocks are my jam.
At HarperSage, we celebrate duality and the idea of embracing both strength and vulnerability. Can you talk about how you tap into both to accomplish your goals?
Kim: I think pursuing any big goal requires a level of vulnerability. When I missed the Olympic team in 2012 by one spot, that was the most vulnerable I ever felt in my life. I was raw. I was brokenhearted. I was completely devastated. At the same time, I felt so much gratitude for being given the chance to pursue that dream again. I realized how lucky I was to be able to train with the best in the world. Being vulnerable allowed me to change my perspective and see things in a different light. Being vulnerable is the strongest thing you can ever do. You have to throw fear out the window and focus on yourself and what you can control in your journey.
You can keep up with Kim on Instagram @kimswim. She also offers mentoring services through Rise and has her own learn to swim company, Kim Swim Studios, which is based in Los Angeles.
Shop Kim's favorite pieces